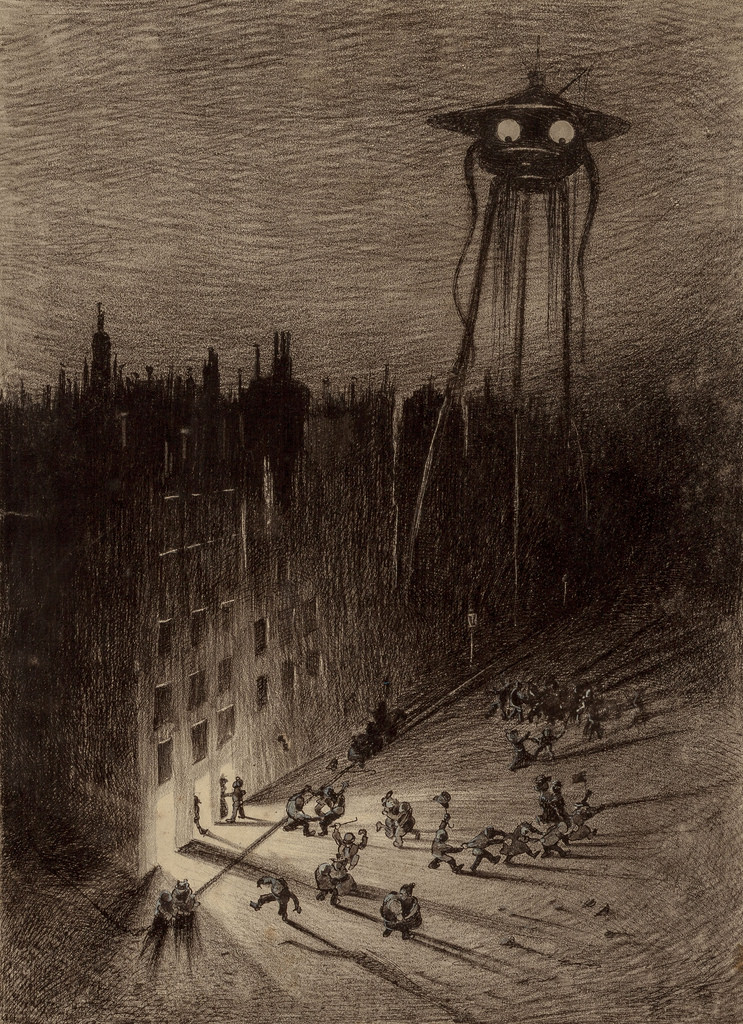 "We are living inside the imagination of our ancestors" said Gaia Vince in an article earlier this year. I was reminded of this more recently when Sandy Trust said something very similar in his excellent presentation on climate scenarios ahead of the publication of the The Emperor's New Climate Scenarios, which highlights how most climate-change scenario modelling in financial services excludes the possibility of tipping points and secondary impacts of climate change, thereby substantially underplaying the risk of us ending up with a hothouse earth scenario.
So I decided to remind myself of the imagination of one of our more imaginative ancestors and read The War of the Worlds. Despite having recently watched both the 2005 Spielberg/Tom Cruise film and the BBC adaptation, I found the content of the book quite surprising – much more focused on how the society of 1895 dealt with the Martians than the aliens themselves.
Wells delights in revealing the imagined human response at each stage. From concern about Martians trapped in their spacecraft in a pit near Woking, to sending a deputation to negotiate with it, to satisfying ourselves that they cannot escape their landing crater after their "Heat-Ray" has massacred 40 people surrounding it. As he puts it:
So some respectable dodo in the Mauritius might have lorded it in his nest, and discussed the arrival of that shipful of pitiless sailors in want of animal food. "We will peck them to death tomorrow, my dear."
That was on the Friday. By Saturday night there was still more interest in the breakdown of a train between Byfleet and Woking junction than in whether this had anything to do with Martians. The lack of response continues:
I have read, in another account of these events, that on Sunday morning "all London was electrified by the news from Woking". As a matter of fact, there was nothing to justify that very extravagant phrase. Plenty of Londoners did not hear of the Martians until the panic of Monday morning. Those who did took some time to realize all that the hastily worded telegrams in the Sunday papers conveyed. The majority of people in London do not read Sunday papers.
Wells has a theory:
The habit of personal security, moreover, is so deeply fixed in the Londoner's mind, and startling intelligence so much a matter of course in the papers, that they could read without any personal tremors: "About seven o'clock last night the Martians came out of the cylinder, and, moving about under an armour of metallic shields, have completely wrecked Woking station with the adjacent houses, and massacred an entire battalion of the Cardigan Regiment. No details are known. Maxims have been absolutely useless against their armour; the field-guns have been disabled by them. Flying hussars have been galloping into Chertsey. The Martians appear to be moving slowly towards Chertsey or Windsor. Great anxiety prevails in West Surrey, and earthworks are being thrown up to check the advance London-ward."
By Monday morning London is being evacuated in the wake of death and destruction. Wells could not sound more contemporary if he were to give his views about Lockdown or responses to the climate emergency. And we can look at these Londoners from nearly 130 years ago and see ourselves, busily discounting the far greater saturation of 24 hour television news, radio and social media and reading, watching and listening to the dire warnings of our own time "without any personal tremors".
But if our children are going to be living inside our imagination, then what are we offering them? Ursula K Le Guin, in a talk originally called "Where Do You Get Your Ideas From?" and then changed to "The Question I Get Asked Most Often", said this:
"The imagination can transfigure the dark matter of life. And in many personal essays and autobiographies, that's what I begin to miss, to crave: transfiguration. To recognise our shared, familiar misery is not enough. I want to recognize something I never saw before. I want the vision to leap out at me, terrible and blazing – the fire of the transfiguring imagination. I want the true dragons."
And that transfiguration of our experience, to embrace things we never saw before but can imagine, must happen in our stories initially. But if the stories are good enough they can then spread – to our homes, our workplaces, other places we meet our friends and people who aren't our friends, to our politics, our economics, our society.
Roman Kznaric's asks in his book, The Good Ancestor, whether there is an antidote to political myopia. His response is that there is and it lies in attempting to establish what he calls "deep democracy".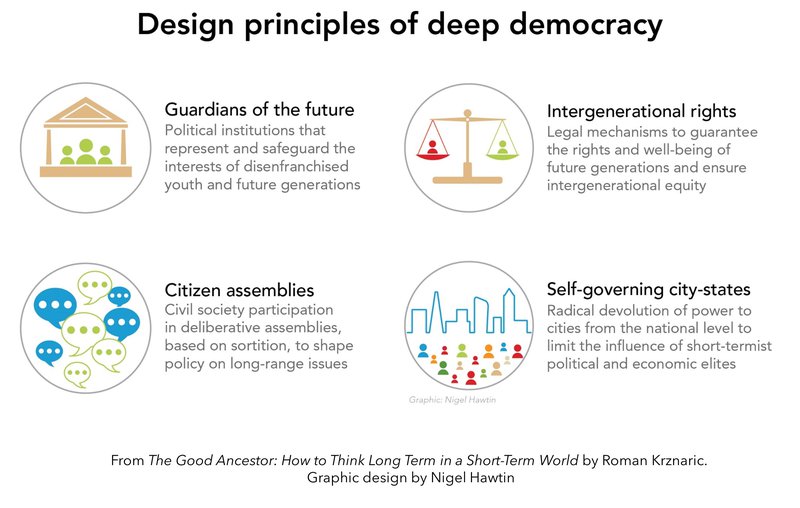 In 2009, The Observer newspaper reported that a letter had been sent to the Queen after she demanded, during a visit to the London School of Economics in November 2008, to know why nobody had anticipated the credit crunch. There was one particularly telling sentence which was picked up widely at the time:
In summary, your majesty, the failure to foresee the timing, extent and severity of the crisis and to head it off, while it had many causes, was principally a failure of the collective imagination of many bright people, both in this country and internationally, to understand the risks to the system as a whole.
To force our children to live inside our current imagination is to force them to live in a world stunted by the ever increasing influence and share of our head space which can be bought by the ever shrinking group of people we allocate our wealth to. But somewhere between the transfiguring imagination Le Guin talks about and the practical proposals of Kznaric and others, it seems to me that there is the first draft of an imagination which our children could live inside.