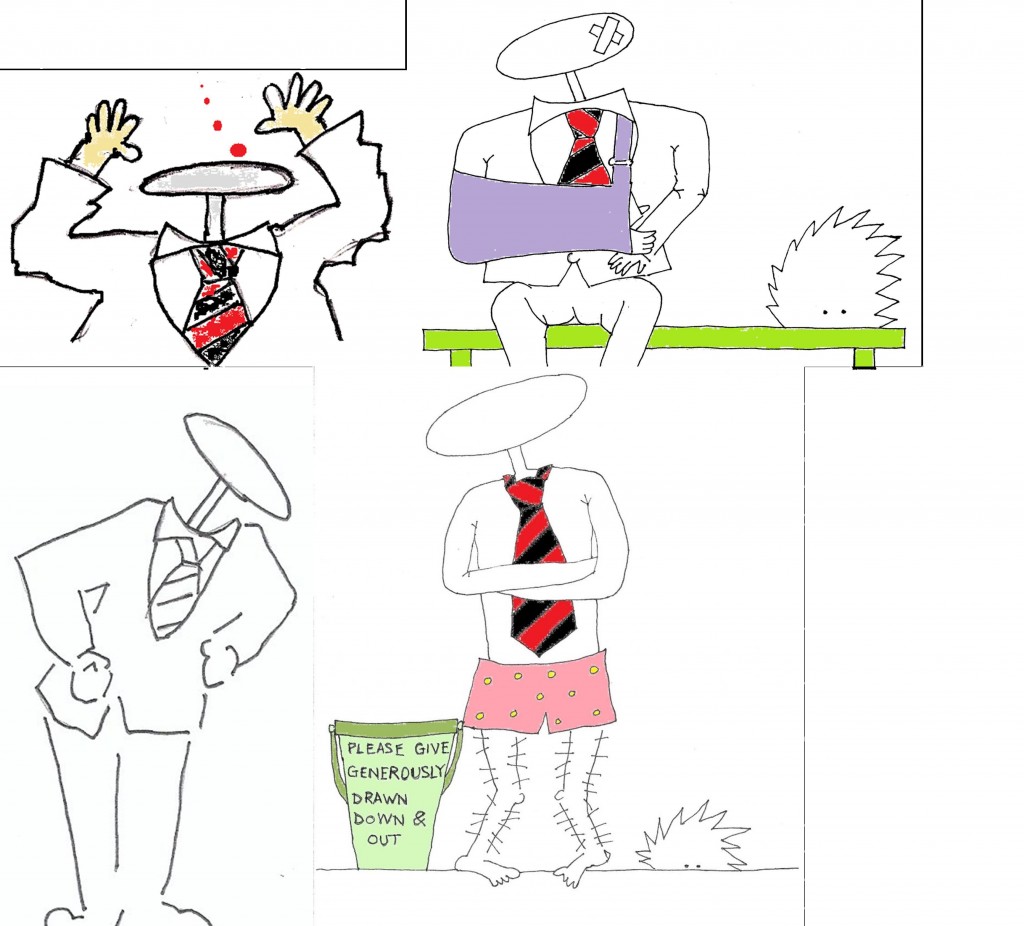 Two women were fighting on my train the other morning. It was a packed train, with people standing the length of the carriage, so I didn't see it so much as hear it. The first woman felt she had been pushed by the other one and complained very loudly and with much swearing. The second woman made some comment about the first woman's mother and it escalated from there, getting louder and louder. Neither was prepared to let the other have the last word and, seeing the impact the mother comment had had, the second woman used it again. At which point the first woman hit her. The other passengers had been sitting and standing grim-faced up until this point, but now one or two intervened. One, who had the bearing of a lay preacher, attempted to assume sufficient authority to stop the argument. He was ignored. Another one stood and put the second woman in his seat and stood between them.
The second woman continued to make comments, but as much to herself as to the first woman. She kept stamping her feet in frustration. She was clearly in unbearable discomfort, but not from any physical pain. Finally she called the police and, as we pulled into New Street Station, started to give a physical description of her assailant. "Everyone on the train saw it" she said several times, while the passengers around her stared in any direction but hers.
I don't know what happened next in the lives of these two women, although an announcement was made a couple of days later on the same service that police were working their way through the train for witness statements about the incident. They never appeared in my carriage, and I am not sure what I would have said if they had. And I don't know what your reaction to my story is – whether that the other passengers, including me, should have acted differently or some commentary on the behaviour of the two women. I am, however, reasonably confident that you will have a reaction, perhaps quite a strong one, despite my limitations as a narrator. The reason I am confident about this is that I found myself, involuntarily, completely absorbed in the dispute, upset when one of the women expressed upset, constructing back stories for each of them, questioning their strategic wisdom at various points and, by the time we arrived at New Street Station and I dispersed with all the other witnesses, emotionally drained. And a look at the faces around the carriage suggested to me that most of my fellow passengers reacted similarly.
Why am I telling you this? Because it is a clear example of our domesticated brains in action. The almost physical pain this argument caused me and most of my fellow passengers is the reason we can travel from Sutton Coldfield to Birmingham every day with rarely an incident. It is often referred to these days, in pejorative terms, as Group Think. The shared assumptions and behaviours which allow us to live alongside each other in peace. I then get on a second train each day from Birmingham to Leicester, which I tell everyone is a great train to work on. But this is only because I can trust the 80 or so other passengers not to start an argument. The police could not cope if everyone behaved like the two women in my story. When the police do make an appeal for witnesses, they do so secure in the knowledge that nothing they say or do will encourage more than a handful to come forward, so strong is our group instinct to stay out of each other's lives if we can. It is not indifference but survival. You need very strong structures to counteract the very strong instinct for Group Think.
However the reason Group Think is used pejoratively is that we have had vivid demonstrations of its power to make large groups of people behave stupidly. For example, herding behaviour in financial markets often causing the very problems people are trying to protect themselves from by going with the crowd. Or regulatory regimes which seem to encourage monocultures to develop, whether in finance, health, education, politics or academia, based on shared assumptions rather than encouraging diversity, because monocultures are easier to regulate. Many professions, including the actuarial profession, have introduced specific professional guidance to encourage whistle-blowing where appropriate, ie standing up to the policies and practices of their own organisations in most cases, which often means doing battle with Group Think. How successful such initiatives prove to be remains to be seen.
Encouraging challenges to Group Think is hard. It normally means going out of your way to allow views to be expressed you don't agree with. It makes getting your own way harder to achieve. It can seem to us like the opposite of strong leadership and decisiveness when we seek out opinions that will make decision-making more complex. But we have made our society so complex and organisationaly fragile that this is what we are going to need to do more of in the future to stop it all from crashing down around us.